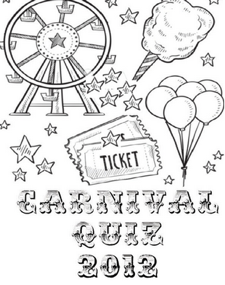 By Gregory Harris
Project Description
Carnival Quiz 2012 is a multiple choice quiz with a carnival theme. In addition to being quizzed the user will be in competition with another user to finish the quiz the fastest. The person to answer the most questions correctly in the shortest amount of time will be declared the winner.
Bio
Gregory A. Harris was born March 3rd 1988 to Lillian and Gregory Harris Sr. At Albert Einstein Hospital in the Bronx, NY. He was raised in the Bronx and moved around many times while remaining in the Bronx area of New York City. He graduated from Martin Luther King HS at the age of 18 with a Regents Diploma in hopes of going to college and getting a degree.
While Harris has been in College on and off for the last few years he is currently in his Senior year at CUNY Hunter College and will be receiving a B.A. in Media Studies in January 2013. While attending Hunter College, Harris has participated in many extra-curricular activities such as becoming a member of the Black Student Union, African Descendants Organization, Dominican Club, Hunters GLO Council, in addition to becoming a brother of Alpha Gamma Gamma Chapter of Alpha Phi Omega National Service Fraternity.