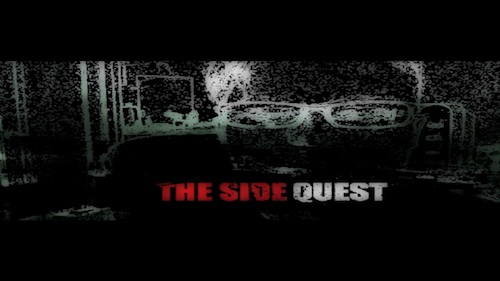 By Mark Partridge
Project Description
The Side Quest is an interactive sound video piece that can be presented as either an installation or a performance.
The Side Quest focuses on the interaction between artist and user. It is intended to inform the listening experience by adding an element of active engagement through visual interactivity and collaboration. Furthermore the project explores the tense and complicated relationship between the analogue and the digital self. It is influenced by the new wave and neon of the 1980s, pop art, retro futurism, technology, video game culture, utopian sci-fi, and growing up alternative in the nineties.
The user approaches an artist canvas. Projected onto the canvas is a wall of blue static. A few feet in front of the canvas and sitting on a small pedestal is a hacked Nintendo Wiimote. The user picks up the Wiimote and is prompted to Find Your Way Through the Static. By exploring the functionality of the controller the user realizes that he or she has real time control over the sound and visual portions of the installation. The use of single and combined button combinations as well as certain motion specific gestures forms the basis of the users journey through the static. This creates an instantaneous collaboration between artist and user a temporary moving painting set to music.
The music is a five-part composition influenced by the soundtrack to the 1982 film Blade Runner and was created using Logic Pro 9. An arsenal of analogue and digital machinery including vintage drum machines, hardware synthesizers and software instruments is juxtaposed with more traditional instrumentation like guitars, pianos, strings, brass and voice. The music uses a combination of organic and inorganic instrumentation as well as tonal and atonal structures to create contrast and texture. It emphasizes both the consonance and dissonance that exists between the analogue and the digital self.
The video portion of the installation is made using a single webcam feed which is layered, effected and manipulated using the computer programming language Max.
Bio
Mark Partridge is a Puerto Rican born, New York City-based composer and music producer. His work includes a series of recordings and videos for Brooklyn electro-punks Last Years Model as well as remixes for artists like Franz Ferdinand, Naked Highway, Logan Lynn and Lissy Trullie. Mark is also an accomplished guitar player and performs regularly in and around New York City. He has also written music for television shows including MTVs The Hills and the short-lived Studio 60 on the Sunset Strip. Currently, Mark is creating an interactive video piece to accompany his recently completed five part musical composition. He hopes to collaborate with more filmmakers and video artists in the future.