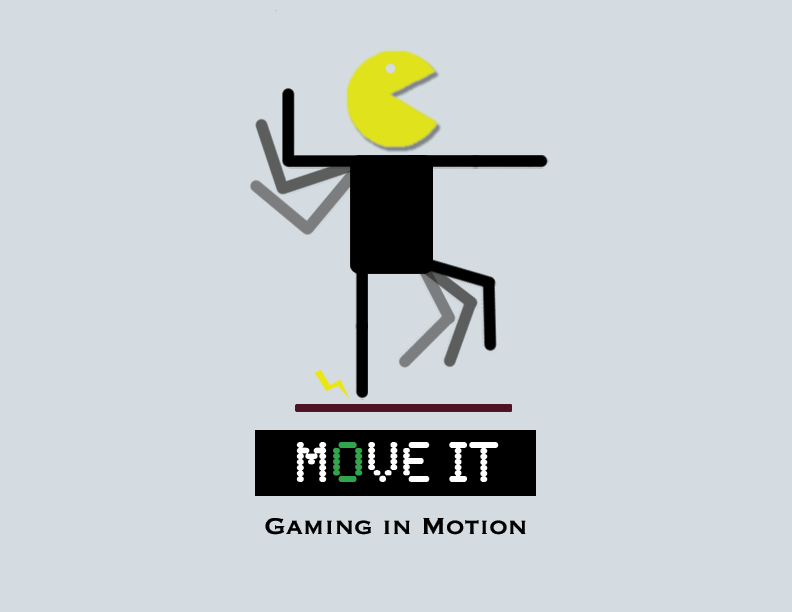 By Ranette Garcia & Andrew Erb & Stanley Leung
Project Description
Our project shall have a pac-man interface presented on the screen of the laptop. There will be no remote controller for the user to use. However there will be 2 rubber mats on the floor, in front of each other. These mats will give the user the ability to move pac-man up or down. Stepping on the mat closest to the table will make pac-man move up. Stepping on the mat behind the first one will move pac-man down the screen. The laptop's webcam will track the left and right movements of the user. If the user physically moves to the left, then pac-man will move to the left. If the user moves to the right, then so shall pac-man. By physically moving along with pac-man, hopefully users can create a new connection while playing a classic video game. Our hope is to provide a new approach to the growing trend in motionbased gaming nterfaces, layering aspects of game-input. Our approach would increase the cognitive process to play a game though through a simple and intuitive process. It would combine buttons with motion with potential for actualfeedback and interaction by the user in both a new and conventional level.
Bios
Ranette Garcia – is a junior at Hunter College and double majoring in Media Studies and Sociology. She has always had a passion for advocating on the injustices in society. She has always felt that media and its different forms have given a face to these injustices. Currently she plays an active role in the Hunter College Student Government as Evening Affairs Commissioner. Her goal is to explore the interactive side of media in hopes to find new innovated ways to reach out to the student body and ultimate invoke change. She also wants to gain the experience and knowledge needed to really execute other difficult forms of interactive media.
Andrew Erb – Born in New York City, Andrew Erb is a senior at Hunter College, in the CUNY Baccalaureate Program with majors in Computer Science and New Media Studies, and Japanese Language and Culture. An avid fan of toys and videogames, he believes they possess potential for enthralling narrative possibilities and potential for interactive experiences yet unrealized. He stems this interest into trying to create toys, games, animation, and website (and web-based media). This is in hopes that through further experimentation, toys and games can be used achieve new levels of user experience in the styles of his new media installations, and become further engaging, educational, and fun to an ever-growing audience.
Stanley Leung – is a New Yorker, born and raised in Brooklyn. He is currently a senior at Hunter College and will be graduating with a degree in Media Studies. Being intrigued by interactive media, Stanley would like to explore this form of media art. This semester will be the first time he attempts to create an interactive project. As a big enthusiast on food, travel, sports, and comedy, he hopes to pursue a career in one of these fields working on video production/editing.