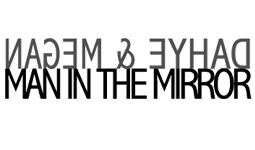 By Megan Sperry & Dahye Lee
Project Description
Man in the Mirror is a multimedia installation that uses the portraits of its participants to address ideas of multiculturalism and diversity while paying tribute to the King of Pop, Michael Jackson, and his famous song by the same title, "Man in the Mirror". By manipulating the user images and projecting them on a wall for the participants to see, the installation is a fun way to address issues of diversity and ethnic identity.
Bios
Megan Sperry is a multimedia artist and documentarian. Her work ranges from published news articles to still photography, multimedia installations and documentary film. In addition to creating social messages, Sperry is interested in training underserved communities how to utilize multimedia tools as a resource to advocate for social justice.
Dahye Lee is an interactive designer. She holds a BFA degree in Digital Media Design, from Hongik University in Korea. Upon graduation, Lee moved to the United States for graduate school. Her previous works focused mainly on flash animation and web based graphic designs, but her range of work has expended to film, editing and multimedia installation. Lee is interested in interactive installation, experimental graphic design and motion graphics.